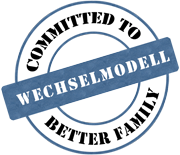 Support joint custody, WEB and Logo
Inhalt
Financial support
The platform Wechelmodell.ch is a self-funded project. Preparation and updating of scientific studies takes a lot of time. We currently also cover server costs and other things by ourselves. By making a donation you support the maintenance of the platform.
Support with deposit

PC 61-953407-3
Kindesschutzorganisation Schweiz,
CH-8424 Embrach.
IBAN: CH07 0900 0000 6195 3407 3

Support with PayPal
Shared custody - Embed alternating custody into your website

With 300px
Höhe 50px

With 150px
Höhe 25px

With 60px
Höhe 50px
Do you know?
| | |
| --- | --- |
| With | 230px 400px 500px 600px 700px 800px |
| Hindergrundfarbe | Transparent Weiss Vom Wechselmodell |
| Code zum Einbinden | |